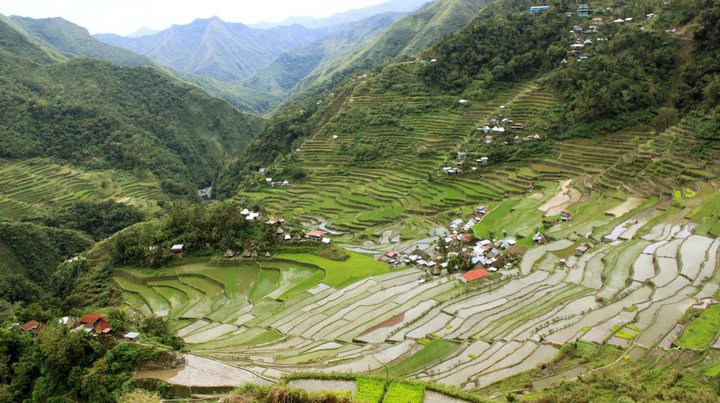 BANAUE
Just when you think you've seen everything, you see two guys on wakeskates careening down the Banaue Rice Terraces having the time of their lives. When the video of professional wakeskating pioneer Brian Grubb of the United States and Dominik Preisner of Germany rushing down the famous Banaue Rice Terraces on wakeskates went viral there was an instantaneous outcry from some quarters that the thousand-year-old wonder had been desecrated and disrespected.

As seen at
ABS-CBNnews.com
It was an immediate trending topic on the various social media outlets and featured on local and international news TV and broadsheets with a lot of people expressing concern. Wakeskating is a relatively new addition to the so-called "extreme sports" and is basically a watersport that is very similar to skateboarding and employs the same principles and techniques but where the intricate stunts and maneuvers are performed on water instead of pavement. Brian Grubb is one of its superstars and pioneers and he says they have been searching the world for unique places to try out their chosen sport.

But what's the real score? Was a part of the Rice Terraces really damaged and the Ifugao people and their customs disrespected? Not so, according to Banaue mayor Jerry Dipolog who made sure beforehand that no part of the Terraces would be damaged by the stunt. The Mumbakis, or tribal male elders of the Ifugao who perform their traditional dances and ceremonial rituals, were consulted and their permission was sought and given.
Tribal rituals were then performed even sacrificing chickens and imbibing rice wine for the safety of the daredevils and the rice paddies.
The Banaue Rice Terraces are part of the Ifugao Rice Terraces that have been listed as a UNESCO World Heritage Site (Batad and Bangaan Rice Terraces), considered as one of the Globally Important Agricultural Heritage Sites, chosen as one of two green globe destinations of the country by the World Travel and Tour Council, and is the recipient of an "International Historic Engineering Landmark Award" from the American Society of Civil Engineers. Touted as the "Eight Wonder of the World" by the country's tourism agency and local promoters, this marvelous structure showcases the ingenuity and engineering brilliance of the Ifugao people and claimed to have been built around two thousand years ago by their ancestors.

These cascading rice paddies are irrigated by an intricate system of mountain streams and springs that have been shaped into canals that, along with the unique flowing pattern of the terraces, collects tiny watersheds that are part and parcel of the whole ecosystem of the mountain and have enabled the hardy Ifugao to grow rice at over 1,000 meters above sea level. Built by means of primitive tools and employing only the creative ingenuity of the Ifugao people, the Rice Terraces would reach incredible heights enough to rival that of the world's tallest structures if the vertical distance from apex to base would be measured.

You can get to Banaue from Manila by bus with at least 10 hours of travel time. Ohayami Trans has a direct bus route from Manila to Banaue itself. Better check the schedule and book in advance since they have limited number of buses going to and fro Banaue. Another option is to take their bus going to Kiangan via Lagawe, Ifugao then take a jeepney (those colorful public vehicles) to Banaue. Once in Banaue expect to do a lot of hiking as some places are inaccessible to vehicles.

There are a plethora of shops in Banaue that sell souvenirs mainly the wood carvings that the Ifugao people are known for and their weave crafts. You can purchase all sorts of items including Bului the carved granary idols/guardians and the bench of the upper class Ifugao called the Hagabi.
If you're looking to try something unique, you can try the Ifugao Wooden Scooters. These are functional handmade scooters composed almost entirely of very sturdy Pine wood that you can rent for a very cheap price and can reach speeds of 80km/h on a downhill slope. They are lightweight and can be easily assembled and disassembled. They have wooden wheels covered by rubber linings with foot-controlled pedals for brakes since the "cruising" capability of these ingenious little bikes are almost entirely limited to downhill driving. For going uphill, your feet would be used giving it that comical Flinstones appeal.

The spectacular Rice Terraces are, of course, best viewed from the highest point so after doing your stretching exercises, trek to the main viewing platform from Banaue which may take at least an hour. There are plenty of viewpoints especially on the path going to Bontoc. Your efforts to trek uphill will be rewarded with the panoramic view of the majestic Ifugao rice terraces.